Tree of Life Interfaith Walking Meditation
Date:
Wednesday, April 26, 2017
Time:
7:00 PM - 8:30 PM
Location:
Grace Episcopal Church
Houston, TX 77025
United States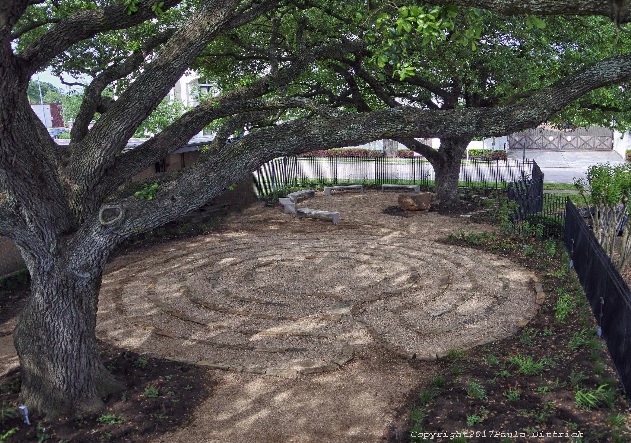 Join us as we walk together in the new Contemplative Prayer Garden and Tree of Life Labyrinth at Grace Episcopal Church. An interfaith evening of sacred meditative music and chants will be provided as part of the 2017 Compassionate Houston Week, co-sponsored by Grace Episcopal Church, Congregation Brith Shalom, and Interfaith Ministries for Greater Houston (IMGH). Benches and chairs are available for those who prefer to sit and simply listen.
IN CASE OF RAIN: We will gather inside one of the large general use rooms at the church to listen to the music and there will be opportunities to visit and have refreshments.
Interfaith meditative music will be presented by:
Iman Ameer Abuhalimeh, Islamic Da'wah Center;
Rabbi Ranon Teller, Congregation Brith Shalom;
Claire Villarreal, Dawn Mountain Center for Tibetan Buddhism;
Diane Davis Andres, Grace Episcopal Church; and
Dr. Hansa Medley, Hare Krishna Temple and Cultural Center
This event is free and open to the public. Please register through the IMGH website below to assist us for planning purposes only. For more information, contact: Phyllis Gingiss at pmgingiss@comcast.net or Helen Rose Ebaugh at Ebaugh@uh.edu