VOLUNTEERS NEEDED SATURDAY, MAY 4, 2019!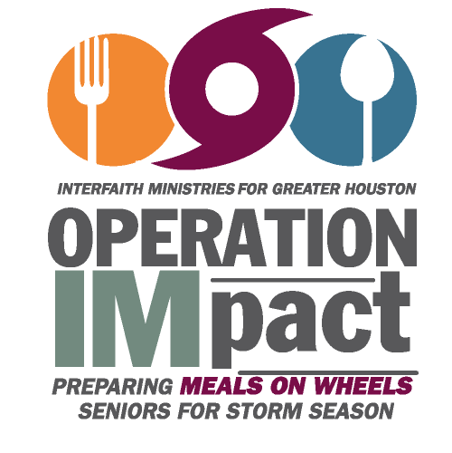 Help deliver shelf-stable meals and water to homebound seniors in our Houston/Galveston community. Make sure our seniors are ready for hurricane season!

Start by forming a volunteer group that includes at least one vehicle with large capacity for picking up supplies.

WHAT IS OPERATION IMPACT?

This is a special project to help prepare homebound seniors across our community for hurricane season. Volunteers will deliver five days' worth of shelf-stable meals and bottled water, as well as emergency information and other supplies, to over 4,300 Meals on Wheels homebound clients, some of the most vulnerable members of our community. This will ensure they are prepared if IM's regular deliveries are interrupted due to a storm. Two years ago we were all reminded by Hurricane Harvey how vitally important this program is!

HOW WILL OPERATION IMPACT WORK?

Each volunteer group leader will pick up shelf-stable meals, cases of water and supply packets from one of our pickup locations. Your group of volunteers will deliver supplies to the clients' homes. Group leaders will receive detailed training and instructions to help their group members understand their roles.
Recruit volunteers to join your group! Ask members of your company, congregation, youth group, civic organization, or school to participate with you. Or form a group with family and friends. To learn more about how click here.

HOW ELSE CAN I HELP?
You can help by donating, reaching out to friends and family to donate and/or organize your group to fundraise and volunteer.